Monday, August 14, 2006
The Last Weekend of My Youth
I want to thank all of the people who came together to make the past two weekends such a success. I know that my brother-in-law, Todd Fulks, and I are quite lucky to have so many wonderful people in our lives as we enter "old age." (That's probably a good thing, since we'll probably need the help more as our memories fade, motor skills deteriorate, etc.)
Todd and I were born on the same day in the Tri-Cities back in 1976 (yes, we are both "bicentennial babies," born on our country's 200th birthday). While Todd was born on 12:01 A.M., just barely making it into August 15th, I was born a few hours later at 3:48 A.M. Of course, I am considering calling Todd in the wee hours tonight to remind him that he has crossed the threshold of the Big 3-0 while I am celebrating my remaining moments of youth at 29.
In any case, this weekend was outstanding.
My best friend
and I hit the golf links on late Friday afternoon, playing
Lost Creek Golf Club
in New Market for the first time. Ben crushed me on the course, channeling Phil Mickelson (the good Phil, not the one that gives away the U.S. Open by pulling driver on the 18th at Winged Foot) through his lefty strokes around the greens to shoot a legit 81. I was awful from the start, shooting a 51 on the front nine. I bore down to recover on the back, though, and finished with a 94. It certainly won't help my handicap, but we had a great time anyway.
After an excellent meal in Maryville with Ben, the VOLConWife, Ryan Holloway (a South Carolina prosecutor), and Jason Oraker (an attorney for Sidley Austin in D.C.), we played a little Texas Hold 'Em into the wee hours of the morning. To show how much my friends cared for me, they even let me win. In all honesty, I have never seen such a great run of luck before. Pocket aces. Pocket kings. Unbelievable.
We were joined the next morning by Jon & Lezlee Dice (two of my good friends from my days at ETSU who currently live in Farragut) for a whitewater rafting excursion down the Ocoee River. We met up with Todd and two of his friends down in Polk County. All 10 of us survived, and we even helped others in that area, as well. In the rapid known as "Double Suck," we pulled person after person out of the undertow after their rafts capsized. We ended up with double the people in our raft for a time, but the rescue mission was a success as only paddles and not lives were lost. Jason (who swam for Williams College in undergrad) showed off his butterfly technique down the Ocoee, which is probably tough to do in tennis shoes. Ben went overboard twice, although one time was a direct result of me slamming into him. I tried to pay him back by grabbing Ben as he was falling out of the boat another time, but I still probably owe him one. At least it wasn't this bad.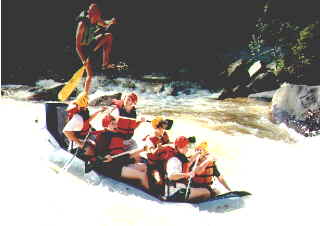 After returning to KnoxVegas, I threw on several pounds of cheeseburgers and put on the Braves game. After some digestion and conversations about sports, politics, and law, the VOLConWife and I introduced Jason and Ryan to Gatlinburg and Pigeon Forge. The neon at light leaves an impression of Tennessee mountain life with out-of-staters. Keeping with the theme of the weekend, everyone let me win at mini golf, too.
An outstanding weekend, I want to sincerely thank all of my friends for making it so. Specifically, I want to thank my wife, Angela. She put forth great effort to pull this weekend off, and I love her for it.
My actual birthday will probably not be so fun. I have nine court cases that day (my present from the judges, I guess), so it's a good thing I had so much fun this weekend.
Comments:
Rob;
Bless you and happy birthday! You know, I didn't realize it until you posted it, but that would make you and I the same age.
Post a Comment
<< Home